Unwrapping Appreciation: Elevate Your End-of-Year Celebrations with 30 SWAG-tastic Gift Ideas for Employees!
Unwrapping Appreciation: Elevate Your End-of-Year Celebrations with 30 SWAG-tastic Gift Ideas for Employees!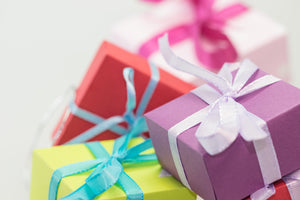 Discover 30 unique and thoughtful ideas for End-of-Year employee gifts! As the year draws to a close, it's time to express your appreciation to your hardworking team in innovative ways. Forget about ordinary presents that fade away; embrace the world of personalized desk accessories, cutting-edge tech gadgets, and much more. We've curated a diverse collection of gifts that will elevate your End-of-Year appreciation to a whole new level.
SWAG, short for "Stuff We All Get," encompasses promotional items or merchandise given away to promote a brand, event, or cause. In this context, SWAG items provide a branded experience, serving as tangible reminders of your company's gratitude. These items foster a sense of belonging and recognition among your employees, making your End-of-Year celebration truly exceptional.
Why choose SWAG for End-of-Year employee gifts? SWAG items offer numerous benefits:
Staff Engagement: Gifting SWAG enhances engagement and commitment to your brand, bridging the gap between work and personal life.
Workplace Memorability: Well-designed SWAG items create lasting impressions, reminding employees of positive experiences at your company.
Employee Appreciation: SWAG gifts convey gratitude, strengthening relationships between teams, managers, and the entire organization.
Brand Visibility: SWAG items used in public spaces increase brand visibility, sparking conversations about your company's appreciation for its employees.
Our Top 10 SWAG Gift Ideas:
Five Business and Office SWAG Ideas:
5 Summer SWAG Ideas:
Five Winter SWAG Ideas:
Socks
Five Outdoor SWAG Ideas:
Football
In a world where ordinary gifts fall short, embrace the extraordinary. Our list of 37 SWAG ideas redefines your gifting approach. By infusing SWAG into your gifts, you're nurturing connections that matter. These tokens of gratitude resonate deeply, transforming the End-of-Year celebration into an unforgettable experience.
As the festivities approach, seize the opportunity to create enduring bonds between your company and its valued workforce through SWAG items that leave a lasting impression.
Need extra assistance with your End-of-Year SWAG gifting? Reach out to us on 03 9937 2121, and let's curate a theme for your gift pack together!