Top 10 Winter Promotional Product Ideas
Top 10 Winter Promotional Product Ideas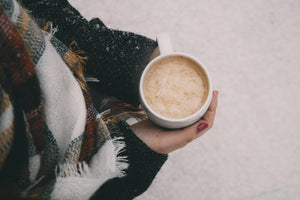 Winter for Australians is all about trying to keep rugged up, staying comfortably warm and avoiding those nasty viruses. But it doesn't have to be all doom and gloom.
While the dreaded flu season is knocking at our door, there are ways to take advantage of the promotional potential that comes with it.
Let's take a look at our top ten promotional products for the winter months that your employees and customers can really appreciate!
Don't be fooled by low humidity and an icy-cold wind. It still rains in winter and no one likes to be caught out in it. 
We have a range of high-quality umbrellas to keep your customers and employees dry and are brilliant for adding a logo or colour scheme that really stands out. Branded umbrellas are an eye-catching product when customised correctly so be sure to check out our collection here!
Let's face it. Everyone craves a hot drink. Who doesn't love a steaming hot cup of coffee (or cocoa), on a chilly winter's morning?
Promotional coffee mugs are something that will actually get used on a daily basis, both around the home and office giving you multiple brand impressions throughout the day. We've got a pretty dynamic range of drinkware including bamboo reusable products that have become increasingly popular in recent times. 
Carrying on from the above mentioned, if you're not a coffee drinker there are still some cool, or rather warm, alternatives that everyone can enjoy this winter.
Loose leaf tea and hot chocolate varieties are hot this month, literally. With an array of flavours like teas with a hint of lemon or ginger, or whether you crave the sweetness of a hot choccy, there's bound to be something to tickle everyone's tastebuds in the office!  We have a large range of choices including single bags and loose leaf options. Best of all we have a range of teas which are developed locally here in Australia. Contact Us to find out more!
We've got a diverse assortment of jackets, every day workwear and even hi-vis apparel to keep you and your team well-layered during these cooler months.
We offer everything from light, fleece zip-ups to more heavy-duty waterproof jackets keeping everyone dry and toasty.
These can be customised so your they can be utilised just as well outside the workplace as you would inside the office.
While we're on the subject of 'waterproof' items, we should also mention that backpacks and other bags make awesome winter gifts.
Being something that almost everybody needs, get some backpacks personalised for your work buddies and perhaps get a few kid's one's made up while you're at it! Check out our backpacks here.
Ahh, hand sanitiser. Possibly the number one demanded item in the world at the moment. While it's been mostly made mandatory for workplaces to provide it Australia-wide, there are still many businesses yet to jump on the bandwagon.

You'd be mad to not have stations set up at entrances and inside your workplace with branded sanitiser bottles. Another good idea is to have pocket-sized or 50ml containers as promotional handouts for your brand.

There's never been a more appropriate time to use sanitation and hygiene products as part of your marketing plan than right now! 
Although the months ahead might get a little wet and miserable, workplace morale doesn't have to plummet with the temperature.
Gifting promotional items at such a gloomy time of year is a great way to ensure productivity levels stay high amongst your team, in which rain ponchos are a handy thing to have.
As a relatively inexpensive item, rain ponchos can be easily and cheaply personalised making them one super-popular promotional product!
We're willing to bet that at some stage you've been one to experience the annoyance of having to remove your gloves to use devices with touchscreens properly. Not anymore!
These are designed with touch-screen capability in the thumb, index and middle fingers and it's bound to be an item everybody's going to want.
Get your hands on some touch-assistive gloves. They'll make life that little bit easier for everyone and are a must-have addition to any winter woollies wardrobe. Contact Us to discuss these for your next promotion!
Scarves and beanies are great recreational apparel items and are essential to any real winter outfit. Usually reserved for the outdoorsman or woman in us all, these cosy little numbers are going to be a sure-fire success come July and August.
For the best in branded knitwear and other winter apparel, feel free to browse our extensive collection here.
Fleece rugs and pillows are great snuggle-buddies for those brisk evenings at home. These are promotional items your employees definitely won't say no to as we creep closer into the thermometer's minus range.
However, in some parts of the country you may be lucky enough to still hit a few warmish days. This means a nice picnic or two could be on the cards, and with that, you'll need a picnic blanket!
So, there you have it. It's time to get your business as well as your staff, winter-ready. New Age Promotions can help you prepare for your next promotional and marketing strategies with hundreds of useful branded products.
Get in touch with us today and make this year's winter a little different!