Using Promotional Products to Get Back to Work Safely
Using Promotional Products to Get Back to Work Safely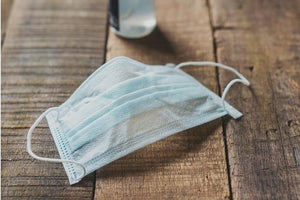 As the catastrophe that is COVID-19 slowly begins to fade, it's important as a business owner or workplace supervisor to realise we're not quite out of the woods yet.
Although we're seeing some sort of normalcy return to the world, continuing to practise social distancing among other health and safety routines should still be very much embedded in our lives for a while into the future.
This means you'll likely require some
COVID-safe materials
for your workspace, but why not integrate a little marketing magic while you're at it?
Let's look at how using promotional COVID-safe products can ensure you and your team get back to work safely!
Social Distancing Measures
With social distancing being regarded as the 'best defence' we have against coronavirus, keeping working environments safe from the spread can be simplified no matter the size or the scale of your workplace.

In addition to the rules and suggestions regarding square footage and personnel numbers, there are other items that can serve as reminders and indicators about the importance of social distancing around the workplace.

These measures and materials are designed to not only provide safety to staff but also instils confidence in current and potential customers if you're presenting a clean, virus-free environment.
Social distancing floor decals and floor stickers are an effective way to show both customers and your team you care as these can be utilised to map out pathways, queueing positions and seating plans in your workplace.

We supply social distancing decals and floor stickers in a range of different styles and designs and are also customisable – a great way to add a logo or a company colour scheme/design.

Feel free to browse through our social distancing promotional merchandise here!
Just like social distancing and floor placement, signs and posters are also a great way to inform your workplace community of how they can do their part in limiting the COVID spread.

These are open to personalisation and customisation and can be stuck or hung just about anywhere. Entranceways, corridors and areas where you expect high foot traffic are the best placement zones – don't forget hygiene signage in washrooms and amenities areas too!

Check out New Age Promotions' range of signs and stickers.
Everyone loves a gift, right? Why not surprise your staff and boost their confidence in knowing their safe with promotional merchandise?

Whether it's a one-off type gift to thank them for putting in the hard yards, or an ongoing incentivised rewards system, you can be assured your staff will appreciate a little something during tough times.

We've got apparel, office gear, drinkware, bags, corporate gifts, stress-reducing items and all sorts of good stuff to ensure your team's motivation levels stay as high as possible.

Remember your staff are likely eager to get out and about again. Give them something they'll travel around with like a backpack, umbrella or keyring and replace the bad situation that is COVID-19 with a subtle marketing strategy.
See a range of packs here which have been designed to Boost morale, productivity, general health and well being.
Hand sanitiser is predominantly the most sought-after hot ticket item amidst the COVID crisis. Set up a few sanitising stations with branded bottles and dispensers around your workplace as well entrances.

You could also introduce smaller, pocket-sized branded hand sanitiser as freebies for your customers creating multiple impressions of your brand throughout the day.

While you can never really have too much of this stuff, why not personalise these items and introduce a mini range of branded COVID-safe merchandise? Think of how many clients, staff and customers are going to be using it, asking for it and purchasing it!
Top Tips: The Importance of Staff Education and Morale
Knowing your team, customers and frankly, everyone in the world are educated about COVID-safe measures and are maintaining a degree of social awareness, heightens all our chances of getting through it.
Workplace morale and a positive mindset towards the common goal is imperative to a successful survival strategy during the corona virus pandemic. High spirits lead to a healthy well-being, which ultimately strengthens the foundation for your business to flourish.
We're all in this together - here's what you can do to help your colleagues:
Explain the importance of frequently sanitising your hands and encourage them to do it.
Introduce team building exercises or other interactive exercises to keep a sense of connection
Implement social distancing measures with the use of floor stickers and decals.
Allow flexibility within your workplace – encourage your employees to stay at home if feeling unwell –be mindful of what other aspects of your team's lives may be affected.
You're going to need a tonne of COVID-safe sanitary and hygiene products over at least the next few months. Now's the time to stock up on items like hand sanitiser, Personal Protective Equipment and even hygiene-related and hand washing posters.
With the fear of a possible second wave of the virus lurking, it's really in our best interest to avoid complacency and secure our workplaces, offices and business the best way we can.
Keep your doors open, your staff happy, healthy and your customers returning and order some
COVID-safe promotional products today!
Get in touch with us today via our
Contact Us page
to discuss your promotional needs! You're also welcome to check out our extensive range
here.