Top 5 Promotional Products for your Trade Show Stand
Top 5 Promotional Products for your Trade Show Stand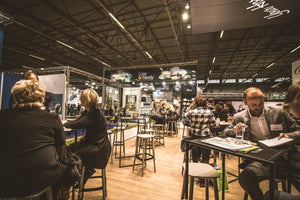 In the following article we give you 5 of our top sellers for trade show giveaways. Lets face it, trade shows can be an extraordinary way to interact directly with your target market, a chance for the sales team to meet face to face with prospective clients – and lots of them! However its likely that at a trade show your competitors are also speaking to the same prospects. So how can you differentiate yourself at the event and further than this stay top of mind well after the trade show has finished? Promotional Products are a sure fire way to not only attract more prospects to your stand they can also serve as a brand reminder to them well after the event is over, giving you multiple impressions at a fraction of the price of other advertising mediums.
Its always advisable to plan out your event well in advanced. Make sure to speak with a promotional products supplier to determine what promotional items will work best for the audience at the event. If your reading this article and have forgotten to organise merchandise don't despair! There is a range of fast promotional products that can be produced in as little as 48 hours. Below we show you the hottest promotional giveaways for trade shows that will give you the exposure your brand requires.
Simply put the humble tote bag is a key giveaway at any trade show event. From marketing collateral, samples or merchandise the bag is a way to give the attendees an item of value and attract curiosity. If the trade show organisers have already got bags upon entry then it would be a great way to put something inside and attract prospects to your stand. For example one of our clients used socks as their promotional product piece. One sock was put in the main bag with a message asking attendees to come to the stand to collect the other. It was a great way to measure the amount of traffic that the items brought to the stand and needless to say the free socks were a hit! Feel free to browse our range of bags to determine which option is right for you. 
Clients ask me whats trending right now in the world of promotional products. The answer is always "anything that connects to a smartphone". The phone wallet is low cost giveaway that adheres to the back of a smart phone using a strong 3M adhesive, allowing the user to store their business cards, credit cards, drivers licence or hotel key. The great thing about them is they don't leave marks when removed. Recently these phone wallets have been released with a snap out phone stand which allows you to stand the phone up on a desk. The new stand feature makes it especially great for executives, students and the like. This is an inexpensive item which has driven results for a lot of our customers looking for a useful giveaway which doesn't break the bank.
Whats great about our third product is that it too connects to a smartphone. Its small so your sales team can easily transport these to the venue whether it be local or overseas. The item itself is cleverly designed and will charge either a iPhone device or Android. It not only charges the devices but can also do data transfer which is a powerful tool for executives and business people. Lastly its available in a variety of colour which can be matched to suit your brands identity and overall look and feel of the stand.
A nice gesture at tradeshows is to have a bowl of branded Mentos mints or Mentos Fruit on the countertops. These look attractive at the stand and a great way to open a conversation. Mentos is a worldwide recognised brand and lets face it, when it comes to mints these guys have it down pat. Individually wrapped Mentos mints can be branded on the outer wrapper with full colour allowing you to achieve a highly detailed marketing message on a small area. Being a brand that is loved, pairing up your logo with the Mentos on the back of the wrapper will add loads of perceived value.
A worthwhile investment. These items are a great way for prospects to get excited and be appreciative at the same time. Its safe to assume most attendees at a trade show will own a smartphone which makes the Powerbank a great useful giveaway.


Conclusion
The promotional products stated above are popular options, but the best results come when you partner up with a company and think outside the box. Making considerations like the events theme, demographics and your objectives will all play a role in selecting something memorable. Make sure your promotional product is useful to the recipient or inspires further interaction with your brand. Feel free to make contact with out team for assistance with any of your upcoming trade shows or conferences, we are happy to help!